We appreciate your interest in Love Morocco Travel. We hope you find our website useful in planning your vacation to Morocco. While many individuals wish to visit Morocco, they typically lack the expertise required to even begin the planning process. We wish to save you money and time by supporting you in seeing and doing everything you've ever wanted to do on your tour across Morocco!
Hi! Mohamed Nogot is the CEO and Founder of Love Morocco Travel. After receiving a Bachelor of Arts (BA) in Sustainable Tourism and Languages, I started Love Morocco Travel to share my passion for travel and adventure. Love Morocco Travel now has a professional crew of local drivers and guides that are passionate about educating each and every guest about Moroccan culture and history.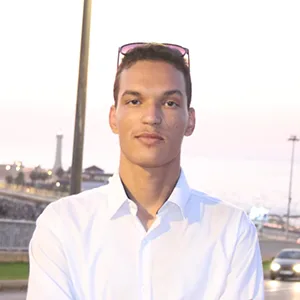 Love Morocco Travel is Moroccan travel agency owned and managed by Mohamed, who is a young man who was born and raised in the Sahara desert (southeastern of Morocco), from Amazigh (Berber) family living in Hassi labied village near the Erg chebbi sand dunes.
Our nomadic family was living in the desert for decades moving with the weather from place to place looking for vegetation and water for their animals, after when I had six years old we moved to the closest village in order to get educated at school, and after years of studies I graduated from university with a valuable knowledge about the history of Morocco and the north of Africa. Apart from my mother tongue Tamazight (Berber language) and Arabic, I speak English, French and Spanish.
After years of experience in tourism domain we created our Agency, with a focus on customer's satisfaction, helping travelers to realize their greatest dreams around Morocco with its famous visited places and its historical monuments, in addition to share our knowledge with everyone who wants to explore our country and show them our history, heritage, culture, and traditions.
We are organizing private tours around Morocco, from the coastal cities with charming beaches and the imperial cities with ancient Medinas to the vast Sahara desert through the Atlas and Rif Mountains offering panoramic views as far as the eye can admire, by comfortable and air-conditioned minivans and SUVs to show you the beauty of our country, one day excursions to take you out from the bustle of the cities to discover the Berber villages and being in touch with their inhabitants and learn about their life, desert excursions by camels and spend night in the sand dunes under an amazing sky full of shining stars in an authentic Berber tent. Moreover we organize a tour in the Sahara desert to discover the hidden secrets of the desert and visiting nomad families living with their animals in the Algerian borders to learn more about the nomadic life. We are offering high quality services with our professional and knowledgeable guides to fulfill your requirements.
By contacting us you will be informed about the best destinations, the best hotels and moderate prices, as well as places for joy and entertainment, all according to your taste and your choice.
Our team is composed of competent and fully qualified professionals in the area to welcome and meet your needs. Our mission is to work so that the customer enjoys the satisfaction of traveling to its fullest.